Description
Ingredienti Barretta ALGABREAK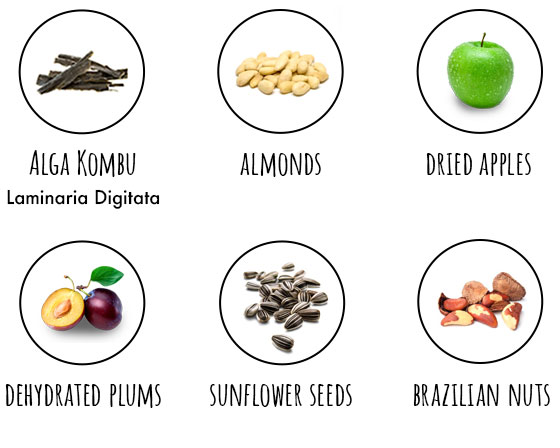 Product Information
ALGHEMAR organic snack (Pack 20 bars 30gr/each).
The ALGABREAK bar is the healthy snack that contains all the beneficial properties of the precious kombu seaweed, combined with the natural energy of ingredients such as almonds, Brazilian nuts, dried plums and sunflower seeds.
It can also be used in the Cultivar diet with the Alghemar smoothie product.

ALGABREAK is an explosion of vitamins, vegetable proteins, antioxidants and restorative substances that provide the right nutriments to break hunger during the day. The kombu seaweed is also an exceptional source of calcium, potassium, magnesium and phosphorus, all of which are very important minerals for physical and mental wellbeing.

The ALGABREK bar is made with 100% natural ingredients, certified organic and suitable for a vegan diet.


An ORGANIC snack:
Authorised by the Ministry of Agricultural, Food and Forestry Policies
IT BIO 006
EU/non-EU agriculture
Verified operator no. E1956
A BALANCED DIET provides an adequate supply of energy and nutrients, preventing both nutritional deficiencies and excesses. A healthy physical activity and proper fitness exercises NATURALLY helps. IT'S A GOOD RULE to consult your doctor's opinion before you implement anything.
YOU CAN BUY THE PRODUCT ONLINE DIRECTLY FROM THIS WEBSITE IN ORDER TO RECEIVE IT COMFORTABLY AT YOUR HOME, OR YOU CAN ORDER IT AT YOUR HERBALIST SHOP-PARAPHARMACY-DRUGSTORE THAT YOU TRUST AND WITHDRAW IT THERE. YOU CAN ALSO FIND OUR PRODUCTS ON THE AFFILIATE STORES.
| | |
| --- | --- |
| Package Contents Algabreak | 20 organic bars da 30gr/each. |
| Ingredients Algabreak bar | Alga kombu (dehydrated) 5%, corn syrup, almonds, dehydrated plums (plums, rice flour), brazilian nuts, sunflower seeds, dried apples, millet blown, cocoa butter and lemon juice. |