Description
Ingredienti frullato


Ingredienti Algabreak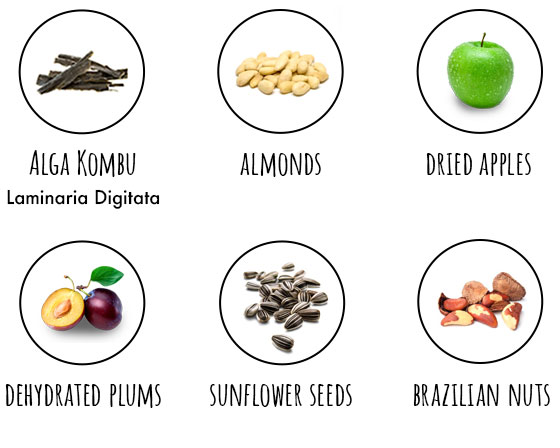 Product Information
ALGABREAK snack bio con alga Kombu + nuovo ALGHEMAR frullato da bere con succo di mirtillo nero. Kit dimagrante, snellente e antiossidante
(confezione 6 bottiglie di Alghemar + 20 barrette di Algabreak).
Il kit è proposto in una pratica confezione da 6 bottiglie di ALGHEMAR da 1 litro/cad. di frullato e 1 confezione di ALGABREAK con 20 barrette da 30gr/cad., per il trattamento completo della durata di 20 gg. suddiviso in 2 fasi di 10 gg. ciascuna.
ALGHEMAR e ALGABREAK fanno parte del nuovo regime alimentare a base di alghe, facile e pratico da usare, è indicato in caso di alimentazione sbilanciata.
Il nuovo ALGHEMAR con succo di mirtillo nero aggiunge alle proprietà dimagranti e snellenti quelle antiossidanti e antinfiammatorie proprie del mirtillo nero e dello sciroppo d'acero.
Il Kit si completa con la novità ALGABREAK, lo snack bio con alga Kombu e ingredienti 100% naturali. Un ottimo snack per una pausa rigenerante sul lavoro, durante lo studio o dopo l'attività sportiva, La barretta ALGABREAK è un'esplosione di vitamine, proteine vegetali, antiossidanti e sostanze ricostituenti.
ALGABREAK rafforza gli effetti snellenti e dimagranti del frullato perché aiuta a spezzare la fame durante la giornata, contribuendo a un regime alimentare vario e salutare.
Le alghe kombu sono molto ricche di iodio, acidi grassi (omega 3 e 6), aminoacidi essenziali, oligoelementi, sali minerali, sostanze antiossidanti, vitamine. Rappresentano uno degli alimenti più completi per la salute dell'organismo. Proprio in virtù della loro composizione nutrizionale, le alghe sono in grado di svolgere azioni diversificate e positive sull'organismo.
Sono molto indicate per bruciare i grassi in eccesso.

Inoltre il mirtillo nero e lo sciroppo d'acero sono naturalmente ricchi di polifenoli (sostanze antiossidanti e antinfiammatorie), per questo contribuiscono a tenere sotto controllo la glicemia, stimolano il processo attraverso cui il corpo brucia i grassi per ricavarne energia e favoriscono l'elasticità del sistema venoso.

Con il Kit acquistato riceverai anche la "FILOSOFIA ALIMENTARE CULTIVAR" con i consigli per una equilibrata nutrizione, grazie alla quale potrai sapere come utilizzare i nostri prodotti nel modo più corretto.

A BALANCED DIET provides an adequate supply of energy and nutrients, preventing both nutritional deficiencies and excesses. A healthy physical activity and proper fitness exercises NATURALLY helps. IT'S A GOOD RULE to consult your doctor's opinion before you implement anything.
Il prodotto della bottiglia è a base di acqua, alghe kombu 15%, succo di mirtillo nero, prugne, semi di finocchio, sciroppo d'acero. Acidificante: acido citrico. Il prodotto nel vasetto è a base di ortaggi freschi (porri, carote), piante aromatiche (prezzemolo, basilico), olio extra vergine d'oliva, alghe kombu, aceto di mele, sale. Acidificante: acido citrico.
PUOI ACQUISTARE IL PRODOTTO DIRETTAMENTE DA QUESTO SITO PER RICEVERLO COMODAMENTE A CASA TUA, OPPURE ORDINALO ALLA TUA ERBORISTERIA/PARAFARMACIA/FARMACIA DI FIDUCIA, PER RITIRARLO IN NEGOZIO. TROVI I NOSTRI PRODOTTI ANCHE PRESSO I PUNTI VENDITA ADERENTI.